Are you currently dealing with a mess that's way too big for your average municipal garbage can? Whether your garage is piled high with unwanted appliances or your office is severely cluttered due to old electronics, I'm the junk hauling pro you can depend on for top-notch trash removal. Rather than waste your time going back and forth to the dump, you can rely on me for the convenient dumpster rental you need to remove junk from your home or office. My services are fast, efficient, and affordable, so there's no reason to delay in contacting me to rent a dumpster for your next cleanout! 
Family-Owned Company
Free Estimates Available
Fully Insured
24/7 Availability
Dumpster Rental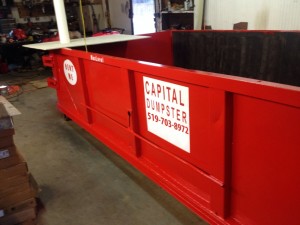 Your Local Dumpster Service
Located in Waterford, NY, Capital Dumpster specializes in dumpster rental solutions for residents throughout the region. I'm pleased to extend my junk hauling and dumpster service to customers in Albany, Troy, Cohoes, Watervliet, Latham, Mechanicville, Stillwater, Colonie, Clifton Park, and the nearby area.
Whether you're seeking trash removal for your office or you're interested in dumpsters rental while you work on a renovation, you can rest easy knowing that I'm by your side. No matter what the extent of your debris removal and junk haul needs, you'll always work directly with me. That means there's no middleman to deal with, and I'll be there to ensure you get the results you want. Capital Dumpster is owner operated to bring you the very best in convenient dumpster service, junk removal service, and more!
Affordable Junk Hauling Solutions
Dumpsters rental services shouldn't cost you a fortune, and when you choose to work with Capital Dumpster, you'll get the fair rates you deserve. I'm proud to offer some of the most affordable pricing in the area for dumpster and junk removal services. So when you want to ensure that your home or commercial space is always beautiful and clutter-free, I'm the expert you can trust to help you clean it up.
Not only will I keep your rates as low as possible, but I'll also strive to provide you with swift service whether I'm dropping off a dumpster or helping with the cleanout. I know just how difficult it can be to live or work in an environment that's overflowing with accumulated junk, and I'll work quickly to remove these unwanted items from your property or provide you with dumpster service so you can work at your own pace. With my expertise on your side, cleanouts, car removal, and just about any garbage hauling task will all be a cinch. 
Professional Trash Haulers
For your security and peace of mind, Capital Dumpster is fully insured. When you need a dumpster rental to clean out your home or office, I'm the pro you can depend on time and time again. No matter what type of mess you're dealing with, or what kind of junk you need hauled away, you can trust me to get it sorted out for you.
When I'm finished, there won't be any mess to worry about, and you can sit back, relax, and enjoying spending time in your home or office space. Call me right away to discuss your dumpster or junk removal needs!